Q3 2021 Data is Now Available
Mosaic's latest release includes Q3 2021 Medicare claims data, the most recent quarter available from CMS. Standard DCE metric tiles on the home page now reflect performance for PY1 through Q3 2021. Add Q3 metrics to your saved views on Explore and check out updates to ACO Insights and Destinations.
Filter Physician Groups by Beneficiary Location
Refine physician group results based on beneficiary address with the Beneficiary Locations filter on the Physician Explore page.
Filtering by beneficiary location can give you a better sense of where a physician group is treating patients, which may be broader than where the group or individual clinicians within the group are listed in the NPI registry.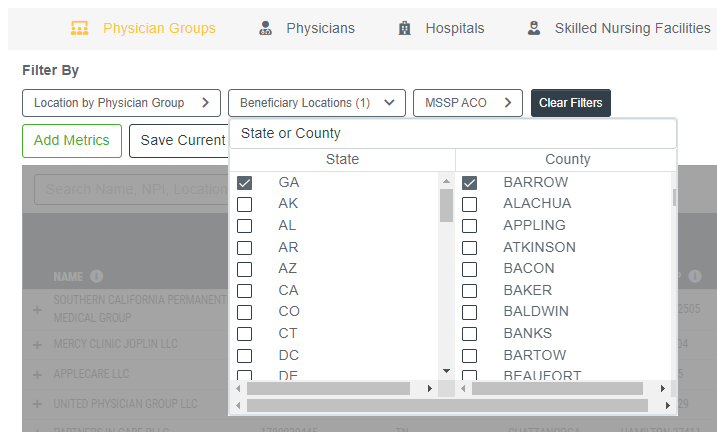 Find Physician Groups based on MSSP ACO Participation
Apply the MSSP ACO filter on the Physician Explore page to surface physician group participants for the selected performance year(s). You can also search for a specific ACO to identify which physician groups participated in that ACO for a given year or years.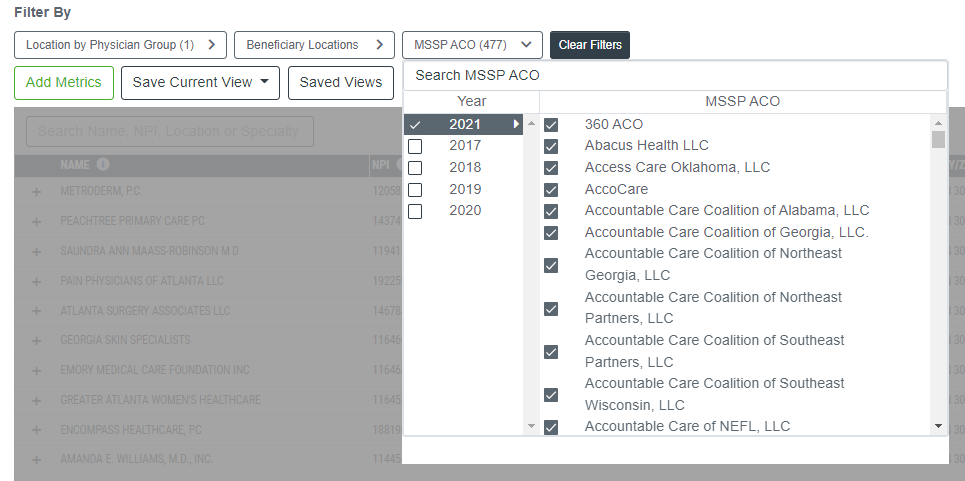 Metric and Methodology Spotlight
Risk Score Update: To more closely reflect CMS's methodology, we've updated risk scores for patients without claims during a performance year. Previously, we averaged risk scores for those patients into the network using a risk score of zero. We now use the correct risk score for these patients, based on their prior year of claims.
Physician Group Explore- FFS Provider Count by Category/2021-Q3/Total: Add this metric for a sum of the providers who had professional claims filed under the group's billing NPI during the reporting period. This total includes the following clinician types: PCP, Specialist, Nurse Practitioner, Physician Assistant, and Other.